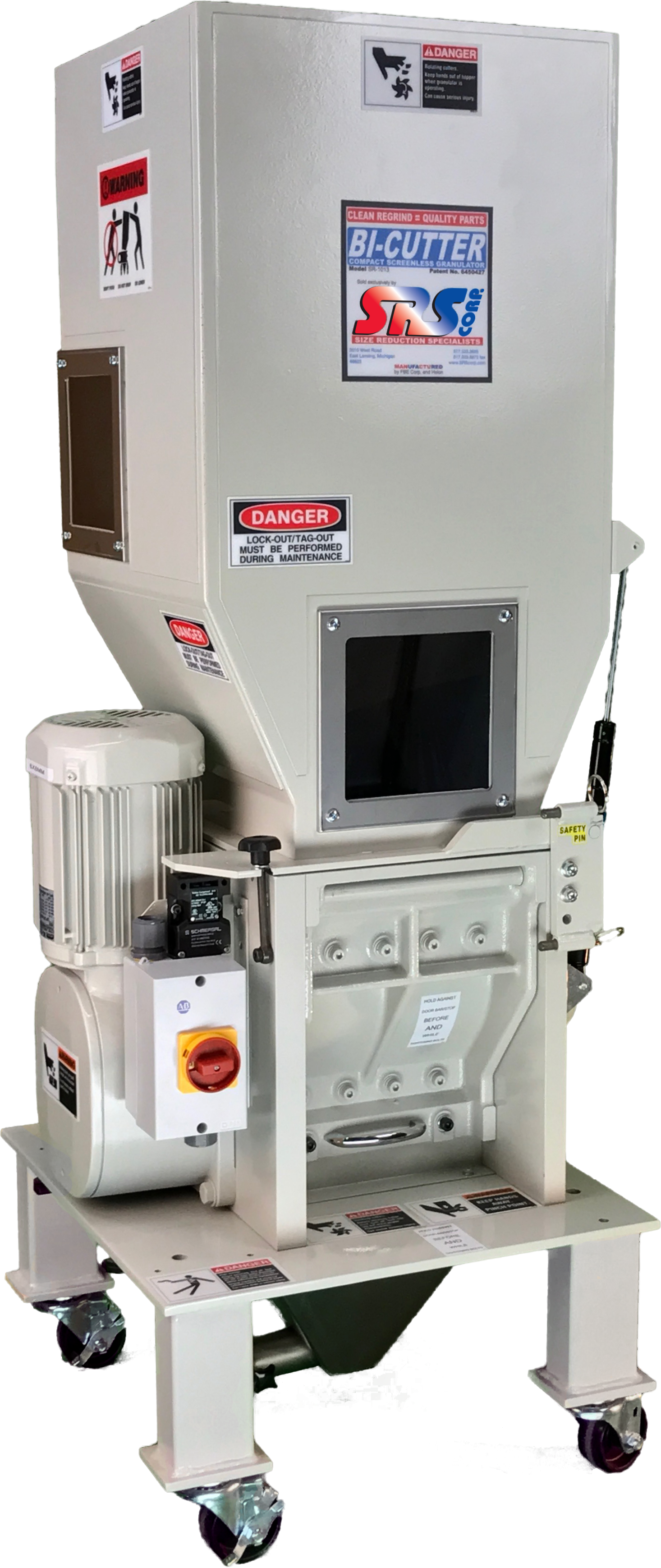 Cut... Don't Grind!
Our patented press-side screenless granulators are designed to provide a clean, high-quality, uniform regrind by CUTTING and not grinding the material. They are low speed, low energy consuming units that provide a quiet low maintenance processing of sprue/runners. Bi-Cutters™ produce regrind that is free of longs with minimal fines, which allows customers to reclaim more material. Our ultra-compact beside-the-press design is half the footprint of others in the industry.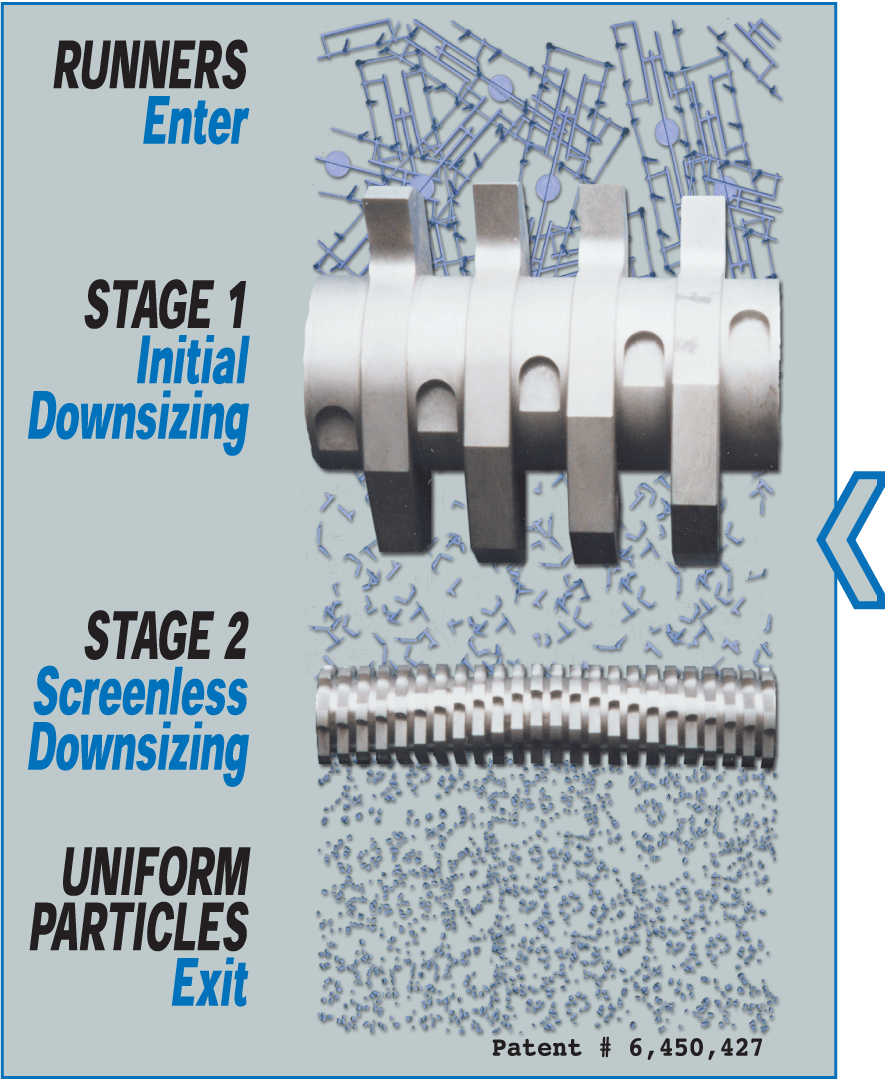 Cutting Process
Runners are introduced into the top feed hopper. First stage "S" shaped cutters grab the runner and reduce the runner to a manageable size. The lower rotary cutter grabs and CUTS the runner pieces into uniform, quality regrind. The cut regrind drops into the lower collection bin for immediate use.
Our patented cutting process allows us to cut TPEs and hard engineered or filled resins.
Cutting Chamber
Swing-up casting doors allow the cutting chamber to be opened completely for ease of access for cleaning and maintaining.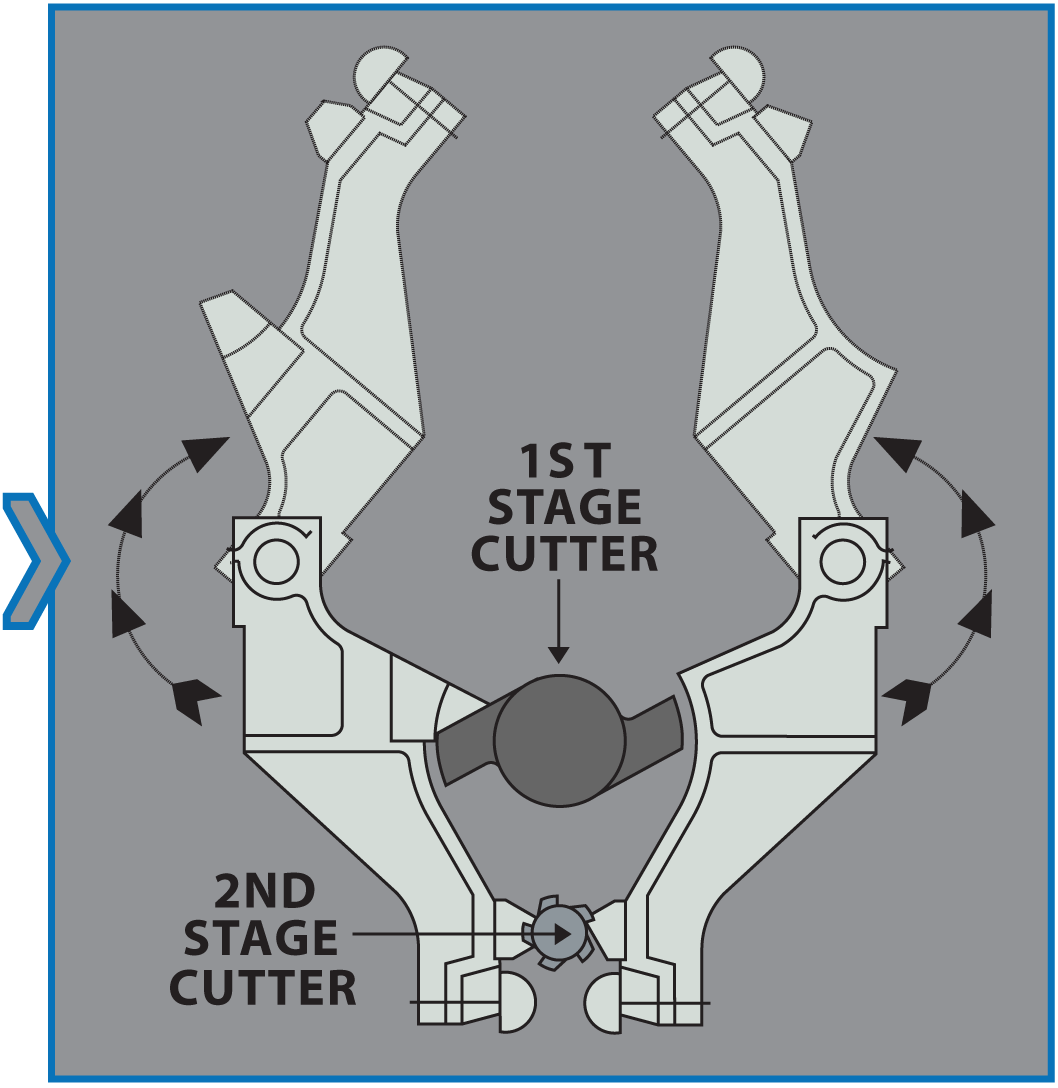 | | |
| --- | --- |
| Small Footprint | Beside-The-Press |
High Quality D-2 Steel Lower Cutters
| | | |
| --- | --- | --- |
| No Sizing Screen | Uniform Particles | No Longs or Dust |
| Reduced Fines | Low Energy | Quiet Operation |
| Low Horsepower | Easy Cleanout | Easy Maintenance |
MODEL
Overall Height
Overall Width
Overall Length
Caster Height
Base Height
Chamber Height
Hopper Length
Hopper Width
Horsepower
Rotation Speed
"S" blades
(1st stage)
Rotation Speed
Lower Rotary
(2nd stage)
Shipping Weight
(#)
Hourly Throughput
(#)
Gear Ratio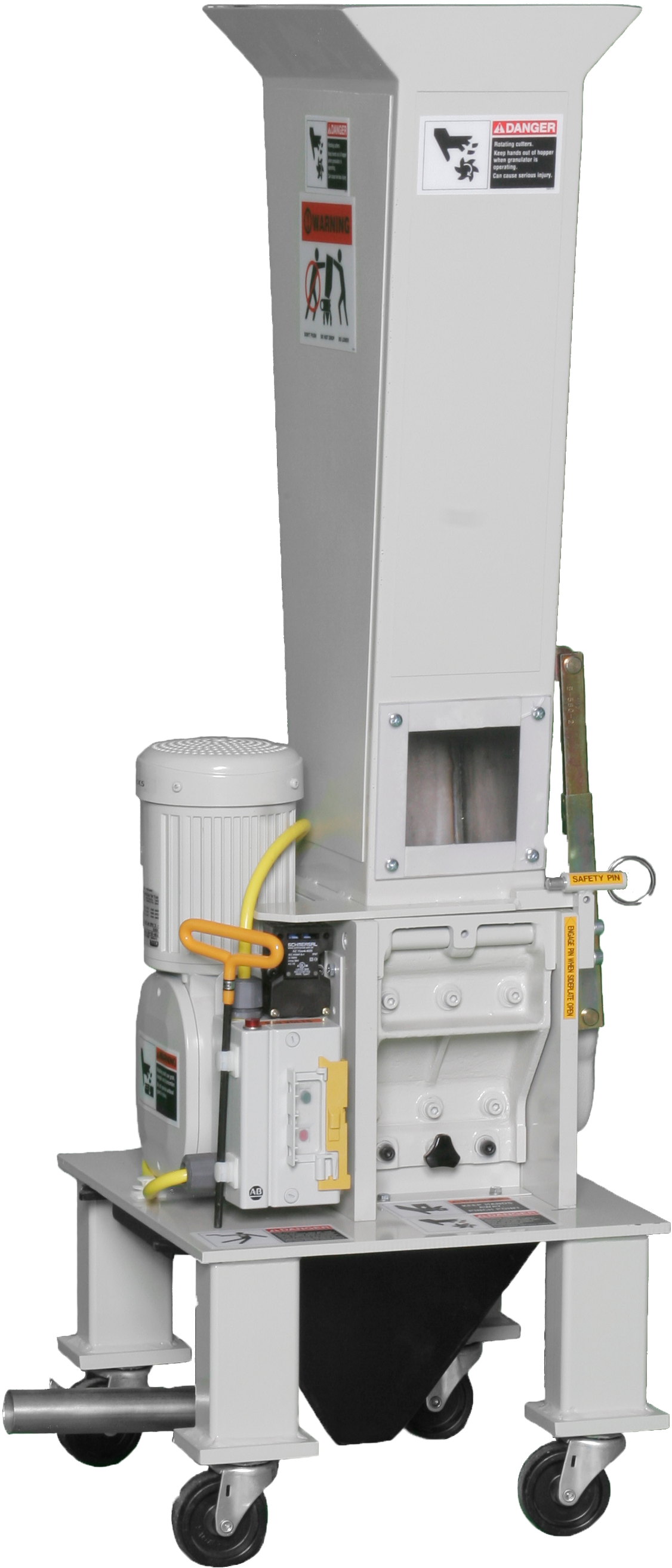 SR68
48"
17"
20"
3 1⁄2"
6 3⁄4"
9 3⁄4"
10"
16"
.5HP/.3kW

15RPM
45RPM

225lb

± 10lb

30:1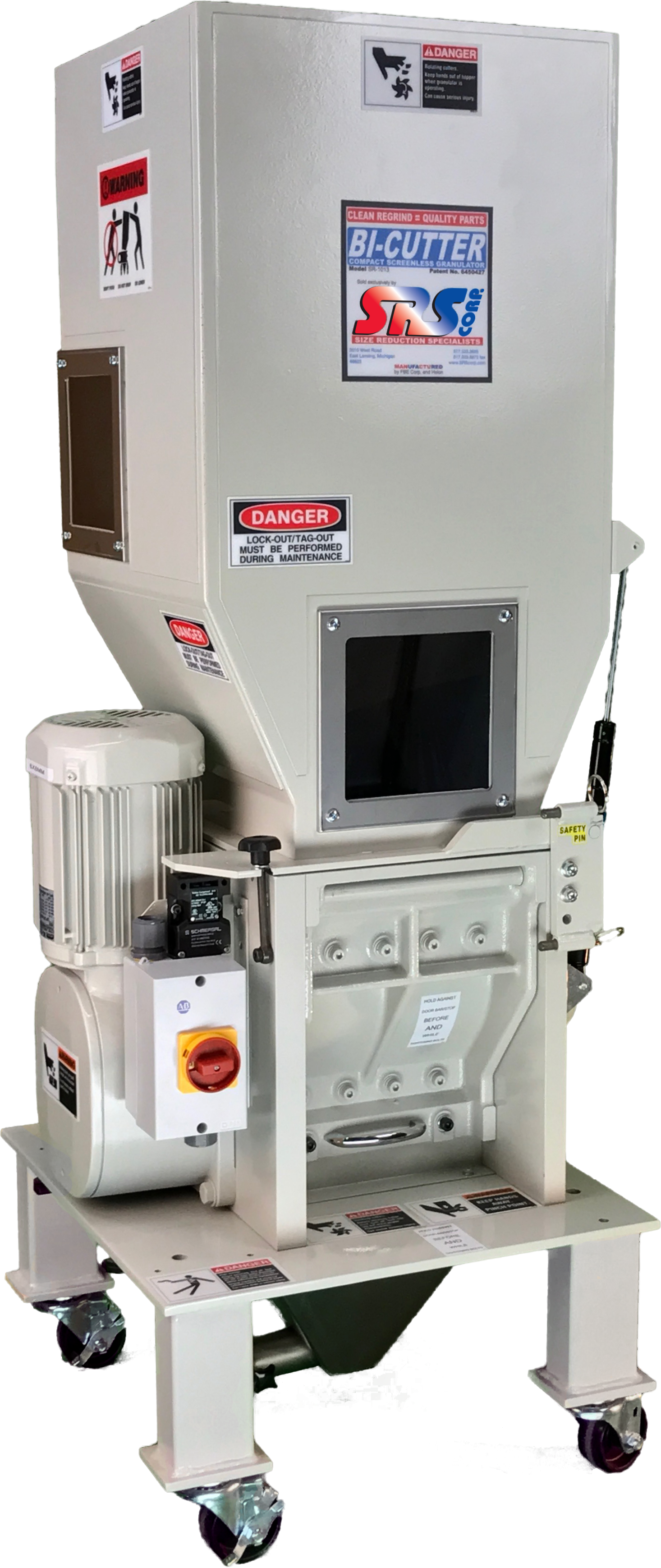 SR1013
54 1⁄4"
21"
20"
3 7⁄8"
6 3⁄4"
13 3⁄4"
16 3/8″
16 3/8"
1HP/.75kW

18RPM
60RPM

465lb

± 30lb

30:1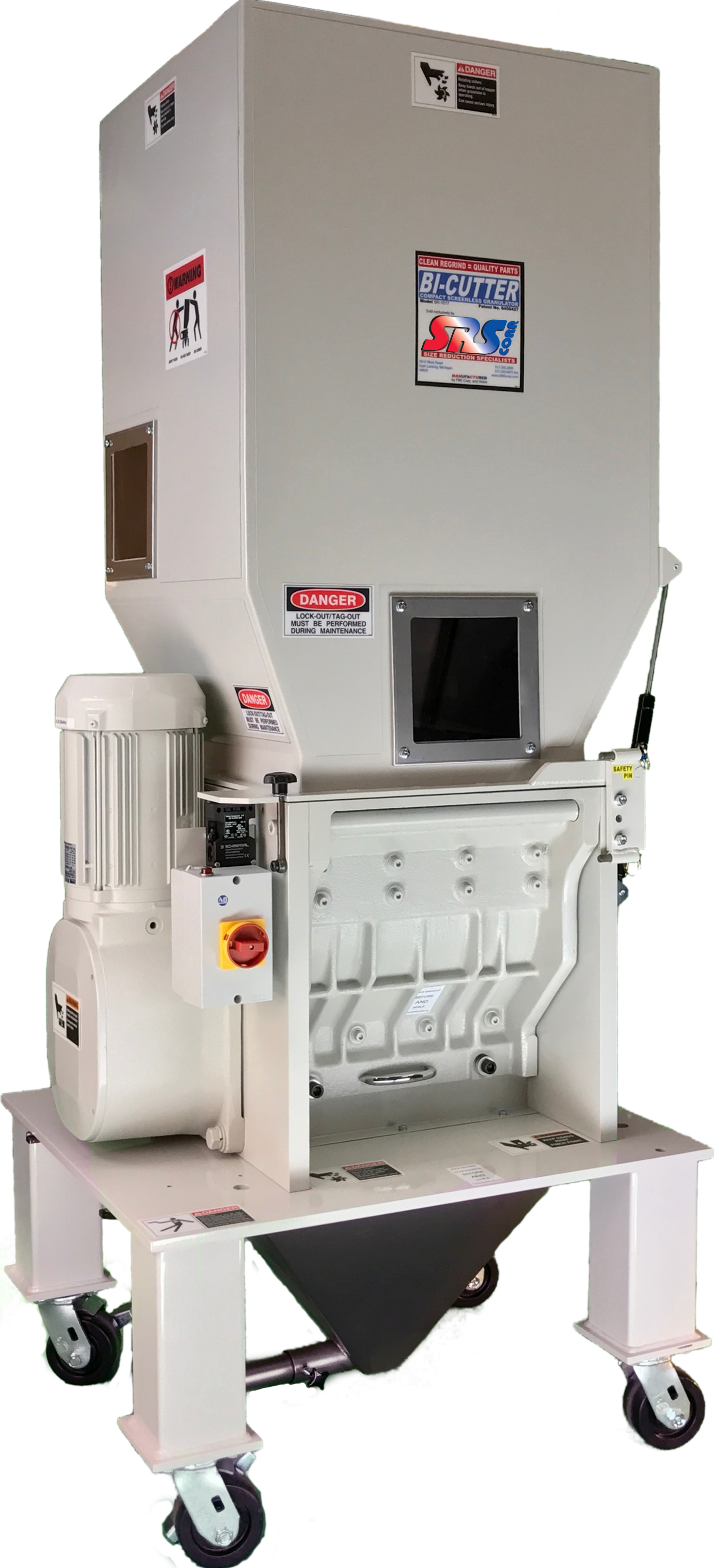 SR1517
69 3/4"
26"
29"
6"
10"
17 5/8"
22 1/2"
21 1/2"
2HP/1.5kW

18RPM
60RPM

910lb

± 50lb

30:1
Product specifications based on standard options/unit, custom features may change information provided, and design is subject to change without notice.
Proper Cutter Size determined during product consultation.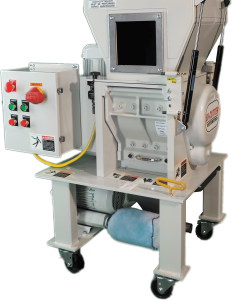 Blower Evacuation System
Our #1 RECOMMENDED evacuation option for regrind removal. It works with all material types and it is highly recommended for soft materials (example: TPE/TPU's).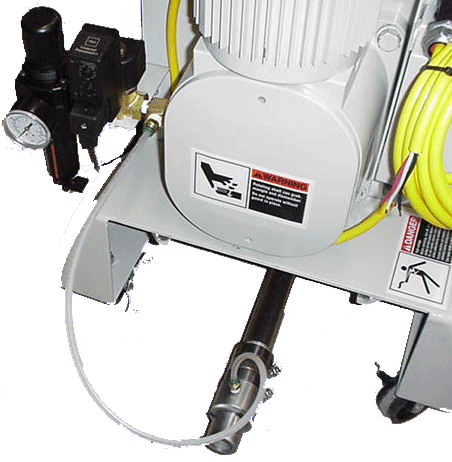 Pellet Mover System
Easy to use and install evacuation system. Operates without moving parts to move regrind. Uses only a small flow of ordinary industrial compressed air.
High Quality Regrind Is Our Mission
Size Reduction Specialists provides high quality specialized solutions to meet customer demands. Our experienced sales and service department, with over 80 years combined experience, is here to help you design a solution that best fits your needs. Contact one of our specialists today at 517-333-2605 or email sales@srscorp.com for prompt response.